Tulamben
The Tulamben area is a great dive for getting back into the swim of things, particularly if it has been a few months since your last dive. Visibility in these waters is generally 12 – 20 metres, with a warm temperature at approximately 28 -29 degrees Celsius.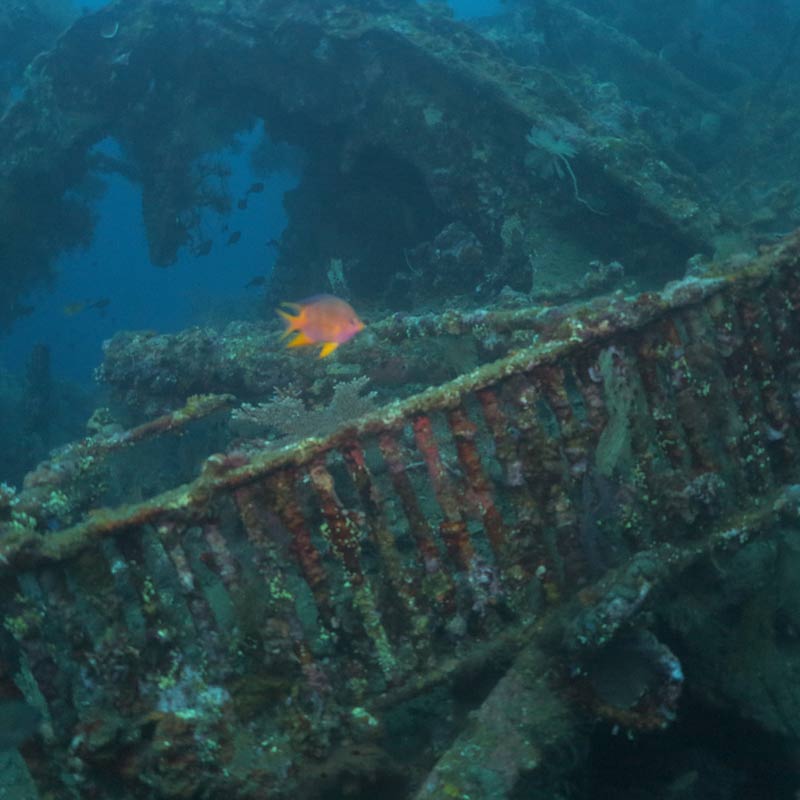 USS Liberty
One of the greatest points of exploration is the USS Liberty. The USS Liberty Wreck was beached by the Americans after the Japanese torpedoed and nearly sunk her during World War II on January 11, 1942. In 1963 she met her fate when the giant Mt. Agung erupted, pushing her about 30 metres offshore. The marine life on and around the wreck is fantastic. Generally there are no currents. This is a great dive site for experienced divers or beginners.
The wreck stretches more than 100m on steeply sloping black sand. The top of the wreck is at a depth of 5m and the bottom at 29m during low tide. The hull is broken into large chunks with big holes, making it easy to explore the innards. Usually the first dive is a deep dive around this giant, while the second explores the innards.
Kubu Point
Kubu Point is characterised by a black sand slope where you can find many garden eels. After a 20m swim from the shore, the reefs run at depths between 5 – 40 metres. There is a great diversity of both soft and hard corals. Fish species sightings include barracuda, pygmy seahorses, sharks and some large octopus. Visibility at Kubu is normally excellent, even when it has been wavy with low visibility in the Tulamben area.
There is also the BOGA Wreck, an 85-metre length vessel that weighed over 150 tonnes. This new wreck sunk in September 2012 and is located at a depth of approximately 13 – 30 meters.
Coral Garden
The Garden starts at a depth of 2-15 m and is wonderfully grown featuring hard and soft coral alike. Besides numerous species of reef fish, the beautiful blue-yellow ribbon moray eel has found a home here.
This dive site is also a superb snorkelling spot with none to moderate current. You can expect to see all the characteristics and marine life of a healthy reef. Squid, cuttlefish are just a few of the thousands of animals found here. Small white tip reef sharks can often be found in the shallows.
Drop Off
lso called Tulamben Wall, this spot is a drop off. Weak current and a good visibility of 10 to 30 meters.
The Tulamben drop off is one of the most popular sites of Bali. Descending from 3 meters to 80 meters depth, it has been formed by the lava river of the Mount Agung of 1963. It is today covered in a multitude of coral.
Alamanda
The Liberty is directly situated near the beach on Bali's northeast coast. The 120mtrs long wreck rests in a 90 ° angle with the deck facing the sea side and used to be an American supply ship during the Second World War.
You may easily dive or snorkel this wreck comfortably, accessing it comfortably from the beach.
Batu Kelebit
Is a group of rocks that protrude from the surface, just a few hundred metres along the rocky coast from Alam Anda. Beautiful ridges of reef drop steeply to depths of 30-50 metres, where Sharks, Barracuda and larger pelagics are often sighted.
Unlike the darker volcanic sand inside Tulamben Bay, Batu Kelebit has white sand between the coral outcrops. So this is more of a 'traditional' coral reef, the shallows are dominated by hard coral outcrops surrounded by Damsel Fish and Anthias.
Seraya (Macro)
Diving Seraya offers Bali muck diving at its best! Seraya is a great macro photography site for underwater photographers as it offers a host of critters. Some of the critter highlights include ghost pipefish, numerous shrimp and nudibranch species, several species of scorpionfishes and lionfishes, pipefish, various types of moray eels, seahorses, dragonets, cuttlefish, octopus, decorator crabs and frogfishes to name just a few!